Peach, sometimes referred to as "Paesh" or "Queen" is Julien's dog ("His little girl") and is a caramel colored italian greyhound. Unlike her older brother, Marbles, Peach is full of energy and loves to play with Kermit. In the video, "Testing My Dogs' Intelligence" Peach won the title of smartest dog out of her family. She is 4 years old (her birthday is June 15th, 2014) and the only female pet that Jenna and Julien own.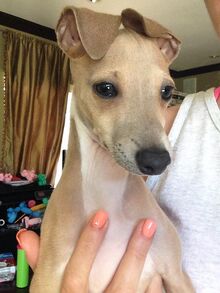 Taking My Dog To Meet Santa
On December 6, Jenna Marbles posted a video of Peach's brother, Kermit, getting his picture taken with Santa. Peach was unfortunately unable to go because she "is way too wild".
Making A Tiny Living Room For My Dogs
Jenna became inspired to turn the room under her stairs into a living room for her dogs after seeing a fan's post. Peach and her brothers were overjoyed to see the reveal. However, in "Throwing My Dogs A Pool Party" it is revealed that one of them peed in the living room. It is unknown which dog, so it is possible that Peach was the one who peed in the living room.
Throwing My Dogs A Pool Party
In the beginning of the video, Jenna reveals that Peach's birthday is June 15th. Jenna first puts Peach in the turtle float and sings Happy Birthday to her. Peach apparently did not enjoy it because she jumped out of the pool.
Weight Gain
Peach began to gain weight in 2016, to the point viewers noticed it and even Jenna spoke about in her Open Letters video, an woman in the park said how she'd never seen a 'round' Italian Greyhound, however Julian revealed in a diary vlog what the problem was. Due to Kermit and Marbles being on an different diet due to their age, they had began to leave food and Peach was finishing their plates. She has now lost the weight as seen in the 2nd Roast My Dogs.