Mr. Marbles is a chihuahua owned by Youtube star Jenna Mourey more popularly known as Jenna Marbles, along with fellow Youtuber and boyfriend, Julien Solomita.
He was born on the 5th of June, 2008 and is the first and eldest dog among all three of Mourey's dogs. He serves as the "big brother" of Kermit and Peach who are also owned by Mourney. He is commonly referred to as "The Dead One" and is the butt of the ongoing joke that he is dead.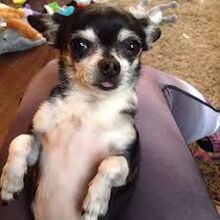 Ad blocker interference detected!
Wikia is a free-to-use site that makes money from advertising. We have a modified experience for viewers using ad blockers

Wikia is not accessible if you've made further modifications. Remove the custom ad blocker rule(s) and the page will load as expected.