'"For the record, Max and I did break up, but we're still friends forever. We were together for four years; you don't just break up and not hand scissor each other."
- 
Jenna
on her current relationship with Max
[citation needed]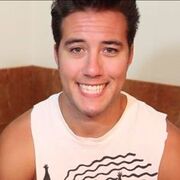 Stephen Maxamillian Weisz[1], also known as Max or MaxNoSleeves[2], is Jenna's ex-boyfriend, and makes his own videos on his channel. Jenna and Max had been dating for four years[citation needed], two years previous to Jenna's first video. They met sometime after graduate school in Boston, and began to date soon after, however in early December 2012, Jenna and Max broke up. 
Max has a YouTube channel, MaxNoSleeves where he posts new videos every Tuesday of comical sketches and blogs.
Early Life
Edit
Max was originally from Boston, Massachusetts. Both of Max's parents are doctors and he has two younger siblings: his brother Alex (who has autism) and his sister Ricki. He was close with his large extended family, especially both of his grandmothers. As a kid, Max liked sports, comic books, and theater and he also participated in theater camps and wrestling in high school and later in college. He attended Buckingham Brown & Nichols High School in Cambridge, Massachusetts. During his senior year of high school, Max lived in Kunming, China. Max attended Trinity College in Hartford, Connecticut. After graduating, he worked at a real estate company, at which time he met Jenna.
YouTube Career
Edit
Two years after Jenna started making videos and mentioning him in frequent posts, he made a channel of his own, where he would film Jenna singing, talking to herself, or playing on her iPad. Recently, he made his own videos. As of May 2016, Max has around 485,000 subscribers, although he previously had over 500,000.
He is of Chinese (maternal) and German (paternal) heritage.
References
Edit
Max's Draw My Life video:
[Max's Draw My Life Video 1]
Cite error: <ref> tags exist for a group named "Max's Draw My Life Video", but no corresponding <references group="Max's Draw My Life Video"/> tag was found.