Ad the hamster, adopted by Jenna and Julien on April 20th, 2017, was adopted because, Jenna stated in the video "We got A Hamster" how she had smaller pets when she was younger, prompting her to adopt Ad. He is a young hamster, with a ginger coat on his upper half and white splotches on the rest of his body. He is seen in the videos "We got A Hamster", "giving our hamster a home makeover", "Making Tiny Things for our Hamster", "Making Tiny Things for our Hamster 2", "How the dogs are dealing with the hamster", "the photoshoot for our hamster", and "Who's smarter: Chihuahua vs. Hamster".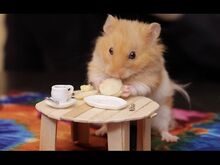 Ad blocker interference detected!
Wikia is a free-to-use site that makes money from advertising. We have a modified experience for viewers using ad blockers

Wikia is not accessible if you've made further modifications. Remove the custom ad blocker rule(s) and the page will load as expected.